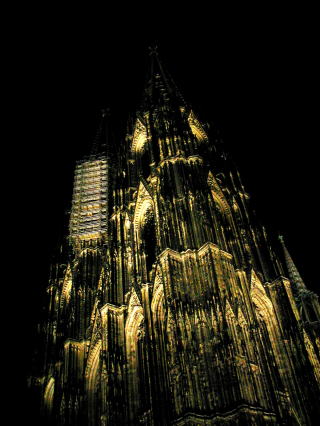 I made a two trips to Europe this spring. First trip was to visit Germany and Switzerland on business.
I flew in Frankfurt and moved to koln , Pfalzgrafenweiler, Tuttlingen, Neuchatel , Montreux and Geneva.
Second trip was to visit Germany and Austria on Vacation.
Flew in Frankfurt and moved to Heidelberg, Rotenburg, Dinkensburl, Swangau, Zalzburg nd Vienna.
Very long trip but enjoyed German Beer very much.
Let's start my trip report from Koln visit.
Koln

First visiting place was Koln which is famous for the largest Doom in Germany.
Arriving at Koln station, you can see the big doom in front of the Koln Station.This doom was started to built in 1247 and completed in 1880, it takes 632years, long histories. In the center of the city, there is a exhibition center where many internatonal exhibition are hold.
In Germany, I have never had a good german food and usually go to Chinese or Japanese food restaurant. This time I found a very good Cantonese restaurant and enjoyed nice food and beer very much.. In Germany, there is a lot of local beers and Kolsch Beer is a one in Koln area. This beer is a little light but very tasty and good for international travellers for introducing to sleep. Of course I also enjoyed slight conversation with nice looking chinese waitress in Cantonese. "hoh sec, Hor ren, mai tang,,,,,"



| | |
| --- | --- |
| Koln Doom | Old Koln city gate |


Next is report to visit local cities in Germany and Switzland. Please click NEXT below.







Yoshi's Address Mail: yoshi.kitamura@nifty.com